This a guide to submitting an entry for the Lock & Load Alpine Rally of East Gippsland using our online entry form.
As anticipated, we have received a lot of interest from competitors who want to participate in the Centenary of the first Alpine Rally so we expect places in the entry list to fill up within the first 2 or 3 hours of entries opening at 10.00am on Sunday August 15th AEST.
A link to the entry form will be made available on both the Home page of our website and on the Competitors Documents and Forms page. But, the Entry form will be disabled until entries open. 
Please read these instructions carefully and gather your information prior to starting the entry form. You will be able to submit an entry without having all required information – what's required is detailed below. You will need to come back later to complete all the other required information. Don't wait too long to complete the form though.
The process for submitting an entry and entry acceptance is covered in the Supplementary Regulations, in sections 6.2 Entry Procedure and 6.6 Acceptance of Entries. 
While you're encouraged to complete as much of the form as possible, to submit an entry to be considered for acceptance you need to, at a minimum:
provide your name and contact details
provide contact information about the Competitor
indicate how you will pay the entry fee
submit the entry form
pay your entry fee within 14 days
After your initial submission, you will be able to re-open, update and resubmit the entry form to complete it. The email confirming your submission will include a link that lets you re-open and edit the form.
If you have chosen to pay the entry fee by credit or debit card online use the link  to the Online Payment Form to make the credit/debit card payment. The link will be provided in your confirmation email. 
Entry forms will be closed for update on 31 October 2021.
All required information must be provided and all required documents must be uploaded by that date. However, please complete all information as soon as possible to make things easier for our entries secretary.
See the Competitors' Documents and Forms page on the Alpine Rally website for links to blank forms that you may need.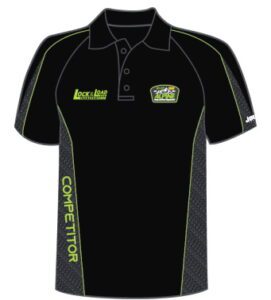 Two commemorative competitors' polo shirts, one each for Driver and Co-driver, are included as part of the entry fee. You need to include the sizes required in this entry form.
Please let us know your sizes ASAP. Cut off date for submitting shirt sizes in is August 31st. After that date you will get what we guess at in terms of shirt size.
Polo Shirt Size Chart
Sizes are the chest measurement across body, 2cm down from armpit.
Mens sizes
| | | | | | | | |
| --- | --- | --- | --- | --- | --- | --- | --- |
| XS | S | M | L | XL | 2XL | 3XL | 4XL |
| 50.5 | 53.0 | 55.5 | 58.0 | 60.6 | 63.0 | 68.0 | 73.0 |
Womens sizes
| | | | | | | | | | | |
| --- | --- | --- | --- | --- | --- | --- | --- | --- | --- | --- |
| 6 | 8 | 10 | 12 | 14 | 16 | 18 | 20 | 22 | 24 | 26 |
| 42.5 | 45.0 | 47.5 | 50.0 | 52.5 | 55.0 | 57.5 | 60.0 | 64.5 | 69.5 | 74.5 |
On the Entry Form, we will not ask you for your Date of Birth or details of your Civil Driver Licence. But, we will ask you to confirm your age group and confirm that you will have a valid Civil Driver Licence at the time of the event.
Our Entry Secretary will need to inspect and validate Civil Driver Licences. You can upload a copy or present the Civil Driver Licence for inspection at Official Scrutiny or Documentation.
Note though, optional inspection at Scrutiny or Documentation only applies to Civil Driver Licences.
We expect all other required documents to be uploaded for inspection well before the event, in line with Motorsport Australia's Return to Race policy and the Alpine Rally's COVIDSafe plan.
There will be a link to the Document Upload Form on the Competitors' Documents and Forms page.
The form is presented over 8 pages.
Mandatory fields are marked with a red asterisk

*

.
You will need to action any messages about any errors or omissions before you can can move to the next page.
You must submit the form, using the green "submit" button on page 8, for information to be saved.
On submission, an email acknowledgement will be sent to the submitter's email address that you enter on the last page.
Take care entering information – especially email addresses! 
The full form takes approximately 15 minutes to complete in one sitting.
If you do not understand any of this information or have further questions please contact our Entries Secretary on entries@alpinerally.org.au