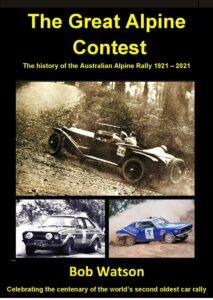 Bob Watson has written and published The Great Alpine Contest – The history of the Australian Alpine Rally 1921-2021. 
The book has 250 pages and hundreds of photos of the Alpines from 1921 to the present day. It contains a comprehensive history of the event, including: 
the pioneering pre WW2 Alpine events originated by the RACV (usually referred to as Alpine Contests) and what they achieved,
how a competitor in one of the 1920s events put out a fire in his brakes with beer,
how a male committee member of the Victorian Light Car Club almost won the lovely legs contest at Mount Buffalo Chalet,
the transition to the modern Alpine rallies from the early 1950s,
contributions from directors Bruce Ford, Ian Richards and Stuart Lister who greatly influenced the format of the event as it exists today,
words from those heroes who have won the event on a number of occasions – Harry Firth, Frank Kilfoyle, Greg Carr and Geoff Portman, in their own words, 
the controversial change from Group G to Production Rally Cars explained in detail By Bruce Keys, long time Rally Manager for CAMS,
the misguided effort to introduce the FIA coefficient system to the ARC and its effect on the Alpine,
the near demise of the event and its rescue by the AWDCC and finally the HRA, and 
a complete list of winners, directors from 1921 to the present.
And many other fascinating insights into the history of the world's second oldest rally.
The book is $40 and is available from Bob Watson's website  or RallySport Magazine.