The 2019 Alpine Rally is partnering with The Breakthrough Ride to help raise awareness of PTSD in our emergency services personnel.
"We've worked closely with all the Emergency Services in East Gippsland and have many long standing and valued relationships with members of those services. This is a great way that our event can give something back to those people and services, not only in East Gippsland but throughout Victoria" said Alpine Rally Clerk of Course, Owen Polanski.
The Breakthrough Ride was created 4 years ago when several Ambulance Victoria Paramedics realised that something needed to be done for those Emergency Service personnel who were struggling with mental injuries. The Breakthrough Ride now works closely alongside the CODE 9 Foundation to raise awareness of PTSD, Anxiety and Depression, and other mental health injuries for Emergency Workers.
Previous rides have travelled around Northern Victoria visiting various stations, not only to raise funds for Assistance Dogs Australia , but to express to colleagues how important it is to seek assistance when feeling like they are burnt out, overwhelmed by experiences and have nobody to turn to. PTSD can be triggered by a single event or with long term exposure. This year their journey takes them to Gippsland and surrounding areas
THE MISSION
To normalise conversation and acceptance of PTSD, anxiety and depression within the emergency services.
To encourage members to seek early assistance when they have been exposed to a workplace injury.
To provide assistance, friendships and referrals for individuals and their families.
The Breakthrough Ride Committee President Tim Jobling (and the other Committee members) have experienced firsthand the devastating effects of PTSD, either as an Emergency personnel or as a family member which in many instances has resulted in family breakdown.
Tim said, "The family members are often forgotten in this process, so this year's ride has a strong focus on families including children who are exposed to the devastating effects of PTSD and other mental health injuries."
Tim went on to say "All donations will be forwarded to the Code 9 Foundation (who are a registered charity, and receipts will be provided). These funds are used in the purchase and training of Assistance Dogs, which are an important therapeutic tool in treatment of PTSD and have in many cases reduced and even stopped self-harm and suicides."
Ride participants will be joined by well known comedian Dave Tulk, and highly awarded musician/singer/songwriter Billy Dettmer. The event is not exclusive to motorcycles, it includes any form of motorised transport.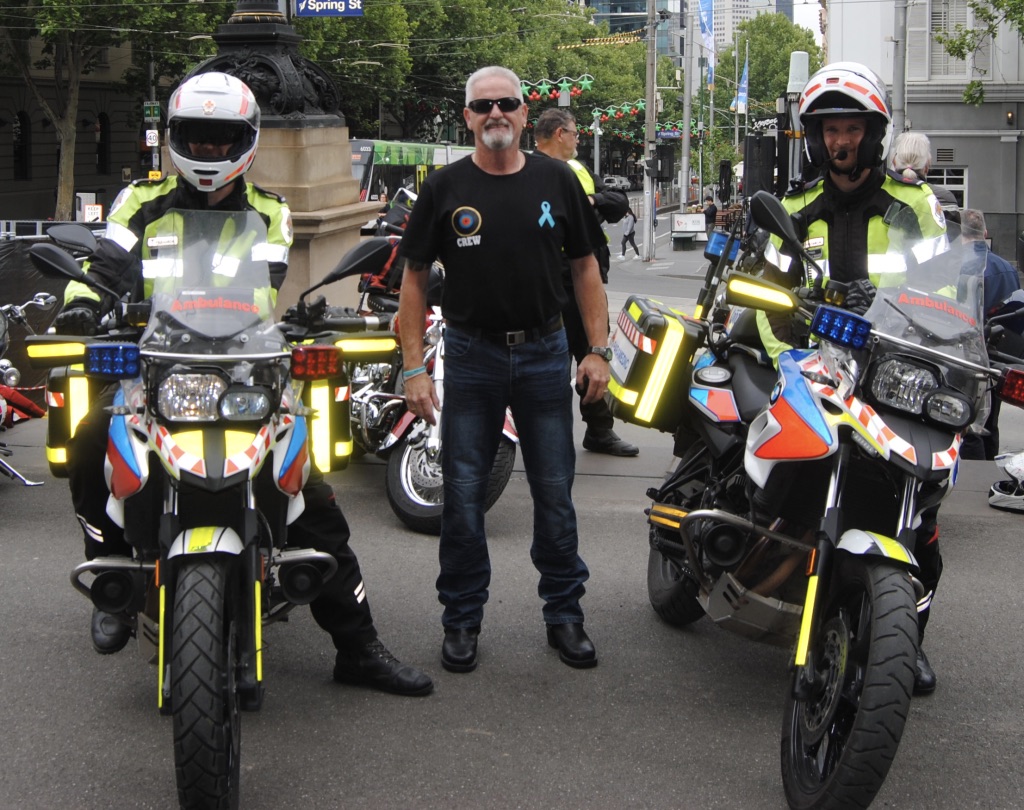 The Breakthrough Ride Secretary Vickie Stewart Bigham said "We would like to thank the 2019 Alpine Rally of East Gippsland for their support of our cause as any assistance is appreciated and hope that we may be able to continue with this support in the future."
Members of The Breakthrough Ride committee will be in attendance at the Alpine Rally of East Gippsland on Nov 29, 30 and Dec 1 this year to talk with competitors, officials and spectators and to raise funds for the vital work they do.
If you see them, please stop, have a chat and offer your support and donations.
More information on The Breakthrough Ride can be found on their website www.breakthroughride.com/ and FB page www.facebook.com/breakthroughride