Lock and Load Transport has joined the Alpine Rally's celebration of the 100th anniversary by becoming the major naming rights sponsor for the centenary edition of the event in December 2022.
The event will now be known as the Lock & Load Transport Alpine Rally of East Gippsland.
Alpine Director Owen Polanski said today "The team at Lock & Load Transport are so enthusiastic in their support of the Alpine Rally. We're delighted that we've taken this step to grow our already fantastic partnership. The Centenary event will certainly be the one not to miss."
Managing Director of Lock and Load Transport, Phil Thomas said "We see the Alpine Rally as being one of the pinnacles of Australian motorsport with its rich history and an amazing list of champions. We're proud to be associated with this heritage."
Phil explained "Lock and Load Transport has a range of products that concentrates on vehicle tie down systems suitable for all vehicles, even V8 Supercars. The products are built to a standard not a budget. You can expect innovation and quality paired together to bring you solutions for your specific tie down requirements."
The Alpine Rally, which was first run in 1921, is Australia's oldest motorsport event. It's also the second oldest rally in the world – only the Monte Carlo Rally is older. With a history like that, it is easy to see why such an iconic event attracts cars and crews from every mainland state and territory in Australia as well as Tasmania, New Zealand the US and the UK.
Lakes Entrance will be alive with excitement and the sound of engines when the Lock & Load Alpine Rally of East Gippsland returns on Thursday 1 December 2022.
Owen Polanski said "we are lucky to be so welcomed by the East Gippsland community and especially Lakes Entrance which opens its community arms to well over 3000 people from all over Australia, including competing crews, service crews, officials and spectators.  It is such a huge event to organize that it only takes place every two years. Many crews build cars especially for this event" he said.
"It is not only our oldest event but it has always been one of the toughest in the calendar. For the Centenary we have added a day and 250km making it nearly 700 competitive kilometers over the four-day event."
"We're really looking forward to working with Phil, Nicky and the team to make the Lock & Load Transport Alpine Rally of East Gippsland the celebration that #AlpineRally100 deserves."
End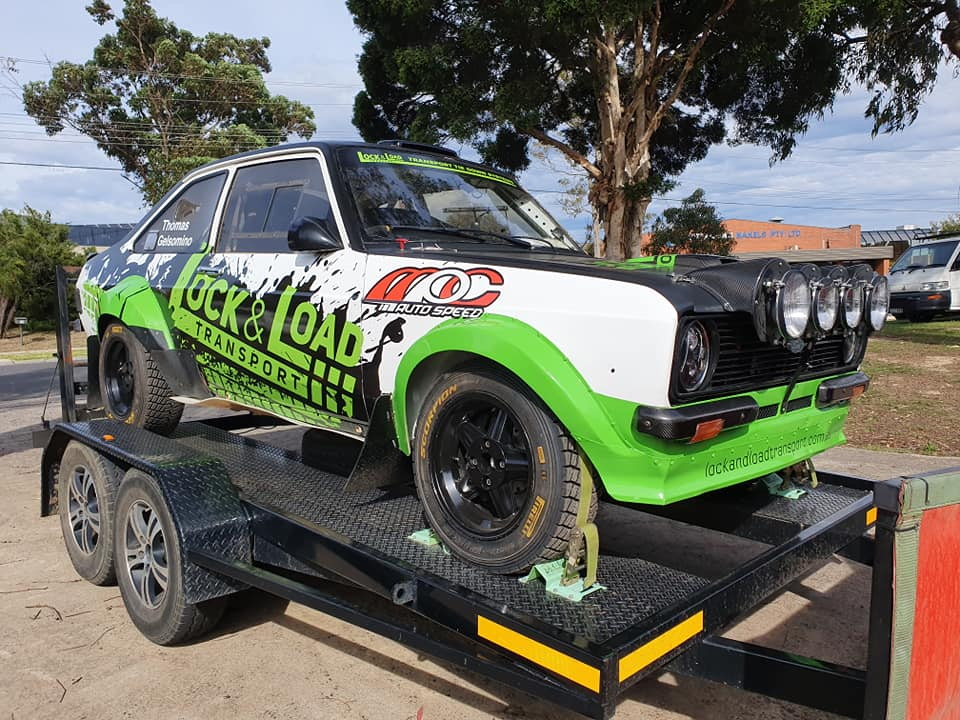 Further information about the Alpine Rally
Contact: Paul Mullan, Media Director
e-mail: paul@blackmagic.com.au
For high resolution images, please contact secretary@alpinerally.org.au
The first Alpine Rally in Australia was conducted by the RACV in 1921, partly as a showcase for the Victorian High Country, promoting motorized vehicle travel in the region. It is second only to the famous Monte Carlo Rally as the longest continuously running rally in the world. The event evolved in to an Australian Championship Rally in the 1960's and maintained its reputation as the biggest and the toughest event by far on the calendar.
Since 2001 it has been conducted for classic and historic rally cars, bringing back to the forest the sights and sounds from the so called 'golden era' of Australian car rallies in the 1960's and 1970's.
Website: alpinerally.org.au
About Lock and Load Transport
At the heart of Lock and Load Transport, there is a family who enjoys car rallying, footy, boating, fishing, and recreational sports. To participate in these activities there has to be an element of fun but at all times SAFETY.
At the end of every day we want to make sure we are safe, healthy and happy. Using safe products, quality products and being educated in their correct use is paramount to achieving this.
Our Mission
At Lock and Load Transport we are committed to bringing innovative, safer, quality products to the market. Innovations such as fluorescent and reflective stitching for night use, retractable tie downs to prevent unravelling, comfortable yet cut resistant safety gloves, and many more safety-oriented products.
We believe that there are too many cheap and nasty products in the market. We want our customers to know that cheap products generally offer poor quality and often cause unexpected damage to their assets. At Lock and Load Transport we are educating our customers and showing them how to create longevity of their assets by using our quality product range and helping to build a culture of safety throughout our community and industry.
Website: https://lockandloadtransport.com.au/ Telephone: 1800 957 828
Originally published in 2021; updated for ALP22 in July 2022