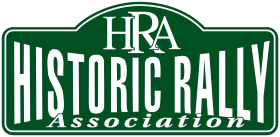 The HRA has many friends in East Gippsland. Of particular note are all those people and organisations who assist in making the Alpine Rally of East Gippsland the biggest competitive gravel rally in Australia every two years.
The HRA committee and the Alpine organising team would like to demonstrate to our friends in East Gippsland the support we have provided. The support will be in numerous different ways, some of which are yet to be organized.
Our Treasurer, Kerril Maloney, will be keeping a confidential register of assistance provided by HRA members. The total value of assistance will be publicized but the names of those contributing won't be known to anyone other than Kerril unless a contributor specifically requests otherwise.
So what can you do?
Support the events the HRA holds in East Gippsland. Graeme Wallis and his team are organizing a tour to be held in September based on the same format successfully used for prior events. Further, the Alpine organizing team are planning to hold one or more non-competitive social tours in East Gippsland later in 2020. Participating in those events directly contributes funds to the East Gippsland community via the services you use and the things you buy.


Make tax deductible donations to directly support CFA brigades in East Gippsland. The brigades that regularly support the Alpine Rally are Bemm River, Bruthen, Cann River, Lakes Entrance and Orbost. Owen Polanski has been in touch with those brigades and they have assured him they will have needs for equipment and would welcome HRA contributions. Donations to CFA brigades can be made via the CFA website (www.cfa.vic.gov.au) or to the following bank account: CFA & Brigades Donation Fund, BSB 063-225, Account number 10220603 and, very importantly, use the brigade name as the Reference. Then let Kerril know what you've done, anonymously if you prefer.


Make general tax deductible donations intended to be used for bushfire relief. Two we suggest you consider are the Victorian Government Bushfire Appeal (www.vic.gov.au/bushfireappeal) and the Gippsland Emergency Relief Fund (www.gerf.org.au). Information about each is available on their websites.


The HRA committee has agreed to donate a total of $8,000 from its own funds to the five CFA brigades mentioned above.


We are collating a list of all the wineries in East Gippsland and expect to soon circulate to members how you can purchase some of the excellent wines produced in East Gippsland, thereby supporting those local businesses while enjoying your purchases!


If you have an idea for raising additional funds and can help put that idea into fruition, let the committee know.


If you have already made a donation or assisted the bushfire recovery process in some other way, we'd appreciate if you could let Kerril know the value of what you've already done. It will be added to the list.
Members will be updated with the total support provided by HRA members. Let's see if we can get to a total that surprises all and does the HRA proud!
David McKenzie
HRA President